In Person
All regular sessions are held at my office in the South Lake Union area of Seattle, WA. Initial sessions can seem daunting, but my hope and goal is to consistently provide a space that is warm, inviting, and produces client ease and therapeutic growth.
I offer a free brief consultation to gain clarity in how treatment can be helpful for each client.
I work from a collaborative, strengths-based approach that acknowledges your unique capabilities and treats all clients with utmost respect. We are all different, not special, but unique. We have personal experiences across our lives that inform the truths we see in our worlds. From those truths, we form our reality. At times in our lives we have experiences that try our sense of peace, happiness, or how we see ourselves. My hope is to come alongside every client and help alleviate parts of life that have caused distress. My ultimate goal is for you to achieve yours. Whether it be furthered sexual fulfillment, problem resolution, or a stronger, happier partnership.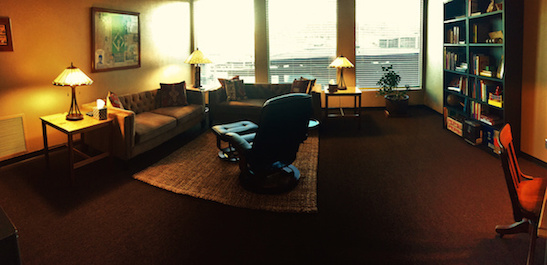 Information for Client Sessions:
Appointments: Monday through Friday 10 am-8 pm.
Fee: Please call or email to enquire. I do keep a few appointments open for sliding scale payment (feel free to ask).
Payment: I accept cash or checks, as well as Visa, MasterCard, Discover, and American Express.
Insurance: I do not accept insurance, but am more than happy to provide you with a receipt so you can submit my services for out-of-network reimbursement. Be sure to consult with your healthcare provider, as not all insurance plans cover all mental health diagnoses.
Office Location: 1800 Westlake Ave. N. Suite 204 (located at ground level, and wheelchair accessible).
Parking: Parking is readily available directly outside of my office door for $1/hour until 4pm, after which parking is free.
Phone: (425) 295-2189 or Toll Free at (877) 546-5459. If I am unavailable, please leave a message and I will return your call as soon as possible.
Email: Feel free to send any questions, comments, or messages to:

[email protected]
Online
I also provide the opportunity for online sessions for individuals, partners, and families residing in Washington State who are unable to attend in person. These sessions are held through phone or Skype conversations at the client's discretion.