I strongly believe that sexuality and pleasure are fundamental parts of the human experience. Regardless of what we prefer or what uniquely brings us joy, we all want our hopes and dreams to become realities. Sex therapy is a specialized form of talk therapy that helps clients better their sexual functioning, communication, and relationships.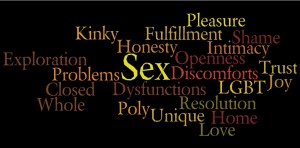 As such, I take a sex positive approach to therapy. I acknowledge, normalize, and hold paramount what brings each individual pleasure. I appreciate each client's unique background, work collaboratively with clients to identify therapeutic goals, and work with clients of all variety to heal shame, dysfunction, strife, and struggle. Through collaborative psychotherapy, I help clients to actualize goals and experience healing.
As a sex , couple/partner, and family therapist, my background and training are in relationship treatment as well as sexuality therapy. As I have significant experience with clients of all backgrounds, I am a tremendous supporter of, and am explicitly:
LGBTIQ friendly
Kink friendly
Poly friendly
Issues Often Requiring Sex Therapy
Regardless of a client's background, I possess significant formal training in, and treat the following common sexual discomforts or interests:
Psychogenic (non-organic) Erectile Dysfunction
Early or Delayed Ejaculation
Female Orgasm Disorder
Male Orgasm Disorder
Gender Dysphoria
Hypoarousal
Dyspareunia
Vaginismus
Paraphilias/Kinks (if deemed by the client(s) to be problematic)
Lack of interest or desire/Arousal issues
Opening or negotiating the terms of a relationship
Sexual issues impacting the relationship(s)
Any of these discomforts can cause a significant impact in life, especially with how we see ourselves , our self-worth, our self-esteem, and our feeling of competence in our relationships. My goal is to meet clients where they are, regardless of their circumstances, and help alleviate unwanted problems or patterns of behavior. In sex therapy, I work with you and your partner(s) to find pleasure, joy, love, intimacy, and fulfillment.